TOURS & PACKAGES
Tanzania is a beautiful country with endless travel experiences to discover. Come and climb Africa's highest mountain and swim in the warm Indian Ocean. Experience the spice Island. Adventure a safari in the endless plains of Serengeti and get an amazing sight of the wildlife in the Ngoro Ngoro Crater.

Indian Ocean Beach Vacation: Tanzania's multiple Indian Ocean Islands provides guests the opportunity to select their beach spot just they way they prefer it.

We also arrange tours to destinations worldwide; from the natural wonders of Australia's great barrier reef to the unspoiled island of Seychelles, from mystic Malaysia to The land of the Pharoes, be it for a family holiday or an unforgettable Honeymoon…

Extra Services
Door to Door delivery
Pick and drop
One day DAR city tour
Airport pick and drop and much more...
Tours additional Information:
Each of our Tanzania safaris and wildlife tours, is a once in a lifetime holiday travel experience It touch something deep within you and can be an affordable getaway that will never be forgotten. All our quality Tanzania safaris and tours are both intriguing and exciting, created by a fascinating balance between the wildlife, the stunning landscapes and the friendly Tanzanian people. Tanzania's northern safari circuit, is renowned for offering some of the finest wildlife viewing holidays and tours in Africa. Its natural abundance of wildlife, along with the annual migration of millions of animals across its northern plains, make up a flourishing eco-system, which is now benefiting from the country's historical strict conservation measures.

Tanzania Wildlife Safaris has produced comprehensive Tanzania National Park safari info guide on Tanzania's northern circuit game parks which include the following.

Tanzanian National Parks:
Mount Kilimanjaro
Kilimanjaro is the world's highest free standing, snow-covered equatorial mountain. Now charted and climbed; stories of her resident man-eating spirits are relegated to the realms of folklore.

But Mount Kilimanjaro continues to preserve a mysticism that defies all recent knowledge of her slopes. Images of the towering snow-covered cone rising majestically from fertile green foothills have become a powerful motif of Tanzania's extraordinary extremes. Few could deny a very distinct sense of awe when the cloud clears to reveal a glimpse of the towering peaks, shining bright in the equatorial sun.

A Towering Life Force
Kilimanjaro represents a powerful life force for the local Chagga people and all those who have made their lives around this mountain, providing rich volcanic soils for agriculture and an endless source of pure spring waters.


Climbing Kilimanjaro
One of the most amazing aspects of the mountain in the present day is the accessibility of its peak to climbers with no mountain climbing equipment or real previous experience of scaling such heights. Kilimanjaro is the highest mountain that regular tourists can climb, although it remains a considerable feat of human endurance!

The breathable oxygen at the top is less than half the amount than is common at sea level, and climbers cover at least eighty kilometres on nothing but their own two feet over the five days it takes to reach the top and return.
Zanzibar Island
Zanzibar,the majestic spice island of the Indian Ocean.These are two main islands of Unguja and Pemba. Over centuries different cultures have influenced Zanzibar to become what it is today. Sumerians, Assyrians, Egyptians, Phonecians, Indians, Chinese, Persians, Portuguse, Omani Arabs, Dutch and British have settled here at one time or another and influenced the local culture into the present fusion.

Zanzibar is an ideal tourist destination. It is fringed with pristine white sandy beaches for relaxing and a magnificent coral reef for snorkeling and diving. It is also steeped in a rich cultural and historical heritage that is a predominantly Islamic culture.

Stone Town is a fascinating and atmospheric old city, with its labyrinth of narrow twisting streets; bustling bazaars and markets; former palaces and grand Arab mansions; and buzzing internet cafes and delightful restaurants. It is a good base to explore the rest of the island.

If you are interested in rainforests and wildlife, then Jozani Forest is worth a visit, especially to see the indigenous Red Colobus monkeys. The island is the largest producer of clove, and is often referred to as 'The Spice Island'.
Bird Watching, Boat Trips, Canoeing Safaris, Chimpanzee Tracking, Fishing, Hiking, Hot Air Ballooning, Mountain Biking, Mountain Climbing, Swimming, Snorkelling and Walking Safaris are among just some of the activities available to visitors
TANZANIA NATIONAL PARKS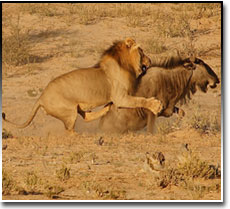 MOUNT KILIMANJARO
ZANZIBAR ISLAND